Come one come all, July 17th, to the fabulous Irving Greenberg Theatre (GCTC), Ottawa – 1233 Wellington West.  An amazing line up of four celebrated west coast Canadian bands!  Yes Please!  Scroll down for more info below.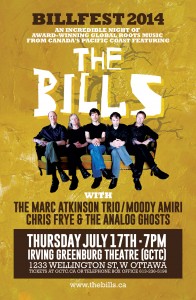 The Bills, two-time JUNO nominees and internationally-celebrated acoustic quintet, headline this one-night only festival of unparalleled global roots music from an all-star collection of West Coast Canadian artists. 
The Marc Atkinson Trio – melodic, energized, amazing acoustic guitar-driven gypsy jazz
Moody Amiri – enchanting classical, Indian and modern spiritual styles played on Persian santur (hammered dulcimer) and viola
Chris Frye and the Analog Ghosts – inspired and inspiring, superbly-crafted Canadian singer/songwriter folk/roots
The Bills latest album, Yes Please, has won accolades across North America and in Western Europe.  On this night, The Bills will play the headline, closing set, while three other bands that are led by members of The Bills will entrance and entertain the audience with shorter sets, each featuring fantastic, stylistically different, musical offerings.
What the media have said about the bands featured at BillFest 2014:
Audiophile.com: "With an infectious energy level, clever tunes, fine musicianship, and tight three-part harmonies, the music on "Yes Please" epitomizes modern roots music."
The Glasgow Herald, reviewing the band's recent June 4, 2014 show near Edinburgh, Scotland:   "The Plant Song figured largely and lustily among these two typically entertaining and brilliantly skill-packed sets. The quintet's essential appeal has always lain in their ability to fuse the bluegrass chops and North American folk song nous at their music's heart with music and metres from sources ranging from Latin America to Eastern Europe. Twin fiddle hoedowns sat naturally next to accordion-led mazurkas.  A Django Reinhardt medley featured an orchestration so sweetly atmospheric we could have been on a black and white movie set, an impression the venue's period grandeur only enhanced."
The Vancouver Province: "Jaw-dropping technique.  Atkinson's music is exuberantly fresh and sparkling, a wonderful gem."
Acoustic Guitar Magazine: "Marc Atkinson Trio's latest album is one of the top five of the year"
CBC radio: "Richard Moody and Amir Amiri have a wonderful chemistry. It's a tantalizing blend of eastern and western sensibilities."
Monday Magazine: "Victoria, BC's answer to Lyle Lovett".
Sing Out Magazine: "Frye has a clear, strong rich voice"
www.youtube.com/thebillsplaymusic
www.marcatkinson.com
www.moodyamiri.com