Released March 4, 2016 (Canada), April 22, 2016 (USA) August 29, 2016 (UK) Borealis Records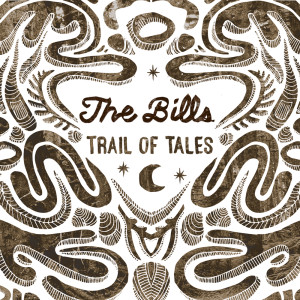 Jungle Doctor
Wonder
Hittin' the Do

ARVE Error: Element ID could not be build, please report this bug.

She Went Up
Forgotten Beech Grove
Lullaby for Elephants
Buy CD — direct from The Bills ($20.00 CAD)
---
---
"(Trail of Tales) represents many of The Bills' best qualities: collaboratively composed, bursting with energy, finely crafted lyrics, tight vocal harmonies, lush and layered instrumentation and the undeniable West Coast Canadiana that the band has been developing for years"
— No Depression
"They are the rare group that combines energy with intelligence, breaking boundaries with musical coherence"
— Rich Warren, Midnight Special
---
Reviews:
The Bills "Trail of Tales" (Borealis, 2016)
Americana UK
Five days before his death from typhoid fever and the final tertiary stage of syphilis in November 1828, Franz Schubert requested that a friend, Karl Holz, bring his string quartet to his deathbed and play for him Beethoven's sublime String Quartet in C Sharp Major Op. 131. This divine sound was the last music Schubert ever heard, and he was reputed to have said: 'Now, I can die happy,' before he drifted into unconsciousness and death. Canadian ensemble The Bills have a distinctive chamber music sound infused with their frontier roots music.It's a magnificent blend and it's apparent that several, if not all of their number learnt their consummate skills from a classical background. If I was on my death bed, I would send word to The Bills to serenade me. The delightful melody of 'Wonders I've Seen' would enable even Lazarus to take up his bed and boogie.'Trail of Tales' was crowd-funded into existence by 182 donors of excellent taste and deep pockets. The Bills are an ensemble who because of their training and the twenty years they have shared a tour bus and a stage, communicate telepathically, melding their very breath and sinew into poignant and feel-good three-minute musical works that creep into the blood-stream via the old ear trumpet and the autonomic nervous system. They order one's feet to move almost as though Herbert Von Karajan was keeping time with his insistent, metronomic, razor-sharp baton.
"You vill be h-a-p-p-y! You must enjoy ze muzzzzzik!" Karajan would shout, were he conducting The Bills in their awesome self-authored 'Happy Be'. I can see this track being used for a car advert before the year is out. Either that or an Anusol Cream advert. First attach applicator. Aaaaah, that's much better. Now, I happy be.
Karajan would have to exchange his baton for a cowboy hat on 'Hittin' The Do' and get those old jackboots doin' a bit of line dancin'. As the lads say: 'Fresh from the haberdash / Do the Charleston two step polka butterfly / sock hop shimmy down back flip heel toe / schottische ballroom ragtime square dance. This is strictly come dancing for those with the vitality and stamina that comes natural to men who've grown up in British Columbia, doing all those manly things that Benton Fraser and the Trailer Park Boys are wont to do in their spare time.
'Wonder' and 'Pebble Beach' are two delightfully pleasing instrumentals that display the delicious tone of the strings, exemplifying their finesse, their brightness and heart-rending passion.
In his novel An Equal Music, which is about a string quartet, Vikram Seth relays how: 'The audiences who listen to us cannot imagine how earnest, how petulant, how accommodating, how wilful is our quest for something beyond ourselves that we imagine with our separate spirits but are compelled to embody together.' Listen to the instrumental 'West Bay Crossing' and I think you'll understand what he means.
One wouldn't be surprised if anyone with the nous in Nashville covered 'What Trouble Is'. It's got chart hit written through its grooves and catchy vocal. I could hear Vince Gill or Rodney Crowell giving a fine rendition. Or even Luke Wheeler.
With Autumn now upon us, the timely 'When The Last Leaf Falls' is a sensitive a cappella rendition that shows off the warmth, vocal strength and dexterity of these fine figures of men.
The Bills unique musical amalgam works perfectly upon the senses and the emotions. Let's ratify these Bills immediately and pass them into law.
If Schubert had the good fortune to be alive, I'm sure he'd be out on the dance floor, (as he used to enjoy very much) grooving, with his arm around his peacock, he would salute The Bills and might shout: 'Good sirs, your Trail of Tales, makes me forget all of my travails.'
Summary: A brilliant melange: classically infused roots music that's hooky, uplifting and thrillingly sublime. 10/10
— Muff Fitzgerald, americana-uk.com
October 2, 2016
---
The Bills: Trail of Tales
rootstime.be
Actually it is pretty surprising that The Bills are not way more famous than they are in Belgium: in their country of origin (Canada) this quintet already received more than one Juno nomination, and their live concerts are always happenings people keep chatting about. The fact that they didn't produce any new work for eight years (2004 and 2012), and that they changed their name from The Bill Hilly Band to The Bills, could play a role in this. Nevertheless, I do not understand why this band systematically stays under the radar. This could of course be blamed on the settings of the radar…
Anyway, a quintet with five composers in the ranks is quite unusual, and this is emphasized if you listen to this record multiple times: you perceive a beautiful impression what's hidden in this assortment of musicians. To start, they are all masters on their many instruments, complemented by their beautiful multi-vocals, and finally their album includes every genre that the Canadian folk has to offer.
"Trails of Tales" is their fifth album in approximately 20 years of existence and it was made in a special way: the quintet retreated in a cabin on the forested Mayne Island, close to the shore of Vancouver Island. There, the band worked – undisturbed and uninterrupted – on fourteen new songs that inhabit the record. This is where the strength of the album comes from: you can literally hear how the five musicians are in sync with each other. Now and then you hear the influence of a classic small chamber ensemble, and then you hear pure folk, or it becomes relatively funky, or it sounds poppy and even swingy.
All taken together, this brings out a record that shines with variation, creating a well-fitting mix of instrumental and rich vocal harmony, complex rhythm patterns mixed with melodies that you can hum along with after listening to it for the second time, and combining pure listening music with tunes you can dance to. This is what we call 'a rich album', one you can listen to every moment of the day, week, and month of the year, and find something of your liking. One condition is that you don't mind violins, acoustic guitar, standing bass, accordion and mandolin. And: you need to be prepared to experience a wide range of genres within the 45 minutes of this record.
For the ones among you that have limited time to listen to this album: it's best to start with the title track, in which almost all the band has to offer is brought forward. Then you add "Jungle Doctor" and "Hittin' the Do", and before you realize what you are doing, you're billowing with the music and listening to the rest of the rest of the album. This is a very pleasant record, but it has to be said that in the world of The Bills, the definition of "folk" is stretched out quite a bit, and it could better have been defined as "acoustic roots music". Urgent to discover. By you! And You! And You!
Dani Heyvaert, rootstime.be (Belgium)
(translation by Marinde Out)
The Bills "Trail of Tales" (Borealis, 2016)
The Georgia Straight (Vancouver, BC)
The temptation is to use terms like polished to describe the Bills' Trail of Tales, this having everything to do with harmonies that out-honey the Everly Brothers and musicianship that's epically accomplished.
There's indeed no shortage of gleaming moments on the unit's fifth full-length, with the "Wonders I've Seen" Americana as its most hymnlike, and "Hittin' the Do" dragging Kentucky bluegrass through the streets of Bakersfield. Like true pros, the Bills also understand that the best thing a veteran band can do is mix things up. So while Trail of Tales earns its file-under-country/folk tag, there are also wonderfully quiet moments like the sepia-toned violin lament "Wonder" and the midnight-in-a-Spanish-taverna instrumental "Mando Coloured Glasses". Polished? Not always, which is part of the charm.
The Georgia Straight
---
Credits:
Produced by Adrian Dolan & The Bills
Engineered by Adrian Dolan at Fiddlehead Studios, Mayne Island, BC, assisted by Kiaran McMillan, and at Baker Studios Ltd. Victoria, BC, and The Barn, Hornby Island, BC.
Additional engineering by Richard Moody and Marc Atkinson
Mixed by Adrian Dolan at Marlborough Studios, Vancouver, BC
Mastered by Joby Baker at Baker Studios Ltd., Victoria, BC
Marc Atkinson: mandolin, guitar, drums, vocals
Adrian Dolan: fiddle, accordion, vocals
Chris Frye: guitar, vocals
Richard Moody: violin, viola, mandolin, vocals
Scott White: bass, vocals
Cover art and design by Leya Tess